Director of External Affairs
GeorgiaCAN
678-953-8494
mary.norman@gacan.org
Mary grew up in Ohio and attended Miami University (Oxford, Ohio) where she majored in Mass Communications. Her career began in the media, working on the air in radio and television in Memphis, Tennessee. While volunteering with a nonprofit organization she became interested in the field of philanthropy. Soon afterwards, she decided to make a career shift. Using many of the skills she had gained in broadcasting, Mary moved into the role of Executive Director for the West Tennessee Branch of the Arthritis Foundation; this decision proved to be a life-changer for her.
Over the next two decades, Mary worked in a variety of nonprofit leadership roles including Group Vice President of Strategic Marketing Alliances with the Arthritis Foundation's National Office in Atlanta and Senior Vice President of Development and Communications for the Jane Goodall Institute in Arlington, Virginia. In 2015, she launched her own consultancy business directing her expertise in fundraising and communications to help raise revenue and awareness for nonprofits and schools in the Atlanta Metro Area.
When Mary is not working on behalf of Georgia's students, she and her daughter enjoy gardening and raising backyard chickens at their county home south of Atlanta.
I aspire to be like my daughter. Here's why: In the second grade we learned that my daughter had dyslexia. It was a hard time for her because at that age her classmates didn't understand why she couldn't keep up in reading. Over the years, I have watched her courageously face her learning challenges and never give up! Today, she says dyslexia helps her see the world differently—which gives her a superpower. In the words of fellow dyslexic Richard Branson, "Dyslexic people hold a set of skills that will be really important to the future of business—the ability to think flexibly, creatively and solve complex problems." As a mother, the work we are doing at GeorgiaCAN to help dyslexic students gives me great joy!
Why I love my job: There is nothing more critical to success in life than a quality education—and no one's access should be limited by a zip code. Knowing that I can work every day to impact a young person's educational future is the best gift I can imagine.
My connection to public schools: I was educated in the public school system and had the opportunity to grow up in a household where education was always a top priority. My dad, a high school algebra and geometry teacher, was a big proponent of public education. He and my mom were both involved parent advocates. Additionally, I was fortunate to grow up in an excellent public school district and those academic years set the foundation for my future.
What I'm bad at: Not scheduling in enough time for fun. I'm 'working' on being better in that department!
This image represents why I work at 50CAN: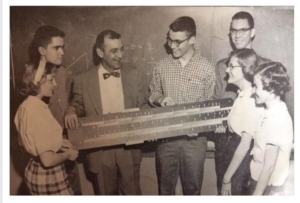 This photo of my dad in his element—teaching high school students in an Ohio public school—is why I work at 50CAN. His passion for teaching is on full display. As a testament to the impact he made in his role, some of his students still contact me to share how he changed their lives. I do our vital work, in my dad's honor, for Georgia's students.